Trendglas Jena (now 20% discount)
Trendglas Jena (now 20% discount)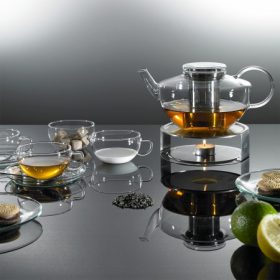 Heat-resistant glass for domestic use was produced in Jena for the first time in around 1920. By developing the borosilicate glass, Otto Schott created a universal material which, after laboratories and the industry, quickly conquered households as well.
Since production was stopped in Schott Jenaer Glas GmbH in 2005, you may now find heat-resistant glass among other things in the Jena original forms in the Trendglas Jena GmbH. It is exported to five continent 50 countries under the brand names "trendglas" and "trendglas JENA" and, only in Germany, these products are offered by more than 700 specialist retailer.
An excellent glass base "Made in Germany", certified quality, continuous improvement of the technical-technological possibilities and our long-standing experience with heat-resistant glass guarantee high quality processed products.
Our products are characterized by plain aesthetics, high functionality and a wide variety.