Tea, coffee etc.
Tea - the delicious scents and flavors greet you.
What would be the pleasure of a special tea without paying attention to the details that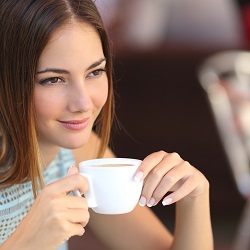 make it an experience. It is those small things that not only promise a special atmosphere, but also make it happen. Of course you can only take your time, drink your tea and indulge in the enjoyment of the moment. But what if you want to allow yourself - or your guests - something special? We offer you this with the special assortment in this section, which allows you to enjoy your stay together.
As an BIO-certified company, we are selling more and more organic teas, often loose and packaged to order, but also prepackaged from, among other things Yeh Tea, Dilmah and Pukka. We can offer these as black or green tea from Assam, Darjeeling, Ceylon or China. Fruit tea, Rooibos and Herbal tea are of course also available in BIO varieties.

| | | |
| --- | --- | --- |
| Choose the convenience of a tea bag. Then you have come to the right place. We carry a range of tasty teas already packed for you in bags. Handy to present and still very tasty. Among other things you can choose from the responsible tea from Dilmah, the spoiled range of Yeh Tea , a powerful tea from Twinings or one of the tasty herbal teas from Pukka . There is something for every taste. Very suitable as a basis for a gift for tea lovers. | | Or would you prefer a more specific taste? The pure loose teas differ from each other in that they grow in different places and under different circumstances. The varieties of tea with a nice taste are often based on a blend (black) and often on a green Sencha. Our offer goes from non-oxidized white tea, via green tea and Oolong to completely oxidized black tea . In a tea shop may fruit tea, Rooibos and herbal tea of course not missing. In our herbal tea range you will find a number of variants based on a Ayur Veda. Also try our Milky Oolong or the fermented Pu Erh tea. |
| | | |
| Sometimes a nice cup of coffee is just what you need. We have selected a range of coffee for you. From a mild to one robust espresso. | | If you enjoy a nice tea or coffee, a sweet temptation should not be missed. Tasty (organic) chocolate, a delicious Italian temptation are just a few examples. |
Subscribe to our newsletter
Receive updates on products and more.