Cosy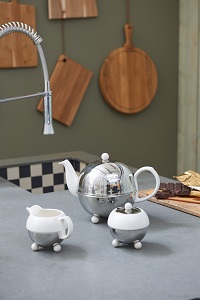 With the romantic Cosy model, everyone will taste the atmosphere immediately. The combination of stainless steel and earthenware may be considered unique because of the accurate manufacturing process. The teapot is separately available, but combined with the sugar bowl, the milk jug and the exquisite tea-glasses it will make a beautiful set. The teapot has a stainless steel jacket with felt lining for insulation. This will retain the temperature and the freshness of the tea extra long. Every teapot comes with a strainer for use with our loose leaf tea.

We also offer a full range of spare parts for these teapots (knobs, lids, pots, filters and felt linings).


Loading...
Cosy Milkjug Black
Enjoy hot tea in style With the romantic Cosy Teapot.
Cosy Sugarbowl black
Enjoy hot tea in style With the romantic Cosy Teapot and this sugar bowl made by Bredemeijer